The original version of this article appeared on Baseball Prospectus Wrigleyville.
By Jared Wyllys
It's quietly one of the greater fears fans have: that a standout rookie will be unable to maintain performance in the years after his debut season, and will instead falter and fade slowly off the radar. Or, worse yet, crash mightily into oblivion.
The dreaded tales of the Sophomore Slump are both plentiful and terrifying. Those stories are generally built around the notion that, once players have spent a year in the Major Leagues, their opponents have had a chance to learn their tendencies and their weaknesses, and therefore how to attack them. Some players adjust to this, some don't. Some take a while to figure out how to adjust, creating the appearance of a slump, only for the player later to recover and return to form.
Analyzing a player's tendencies after just one season in the Majors is difficult because it can be very, very hard to make fully-informed judgments so early in a career. That said, the hope here is to examine Kris Bryant's 2015 profile in particular and focus on what will need to happen for him to avoid regression in 2016. Keep in mind, of course, that growth as a player (and as a person, for that matter) is not linear, so success in Bryant's career might not necessarily require success in 2016. Still, success wouldn't hurt. Let's begin.
There were many positives to Bryant's National League Rookie of the Year 2015 season, but the obvious negative standout was his strikeout rate, which might be the biggest threat to his success going forward. His mark of nearly 31 percent in 2015 meant he came just one shy of 200 strikeouts for the season, and had the third-highest whiff rate in baseball. The clear concern here is that if he cannot get his strikeouts under control, and if his high BABIP (.378 in 2015) drops, a serious dip in offensive production will follow. That will happen if pitchers key in on the weak spots in his swing. So let's dial into that a little bit.
As things stand, Bryant generally does an excellent job of keeping the large majority of his swings inside the strike zone. In 2015, he swung at pitches outside of the zone roughly 29 percent of the time, which is just a little bit better than league average. If he stretches this even just a little bit, however, his strikeouts could jump up dramatically. His overall contact rate is already a little below average, so extending a free-swinging tendency outside of the zone would only exacerbate the problem.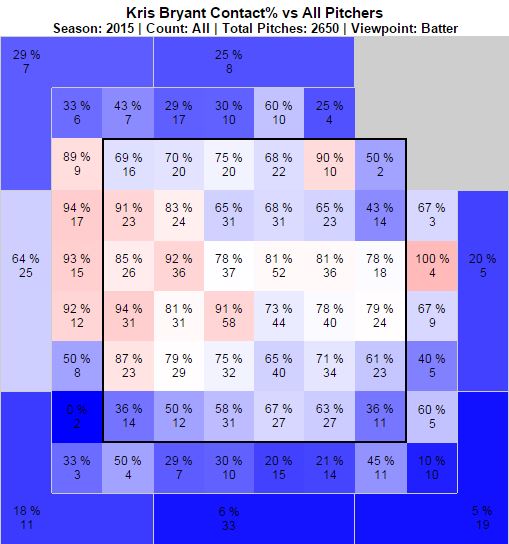 That said, Bryant's pitch selection was a strong point in 2015, and will need to continue to be so this season. He does an excellent job of getting to some of the challenging pitches inside the zone and even in the upper half (and beyond) of the strike zone. A potential problem area, though, is the lower third of the zone, as can be seen below.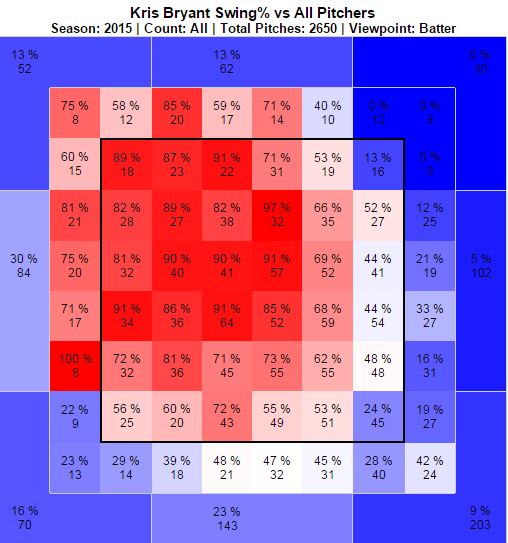 If you're looking for an area for pitchers to attack in 2016, that's it. Bryant's success will likely hinge on his ability to keep a handle on his strike zone, not the pitchers'.
Bryant will need to stay strong on defense, too. Here, the numbers suggest Bryant's strength is at his primary position of third base. Even though very, very limited data suggests he can handle left field pretty well (where he has a UZR of 0.9, but in just 39 innings) and right field doesn't look too bad either (0.1 in 41 innings), the spot where he could see the most time outside of third base and left field -- in center -- was his weakest last year. Of course, the sample here is tiny and maybe not even worth mentioning, but unless the Cubs choose to carry an extra bat instead of an extra pitcher on the bench, Bryant will end up spending a lot more time in the outfield than he did last year, and that kind of defensive change can sometimes negatively affect a player at the plate.
All things considered, is there reason to be concerned about Bryant's 2016? Not really. It's not like Bryant's performance in 2015 was far outside of what he typically produced in the Minors. One of the first things I look for in a player who is new to the league is how closely he is performing compared to his Minor League numbers. Though Bryant's experience there was compressed into two seasons, he did spend time at each level along the way, giving us plenty to look at. His wRC+ was freakish in Low and High-A ball in 2013 and continued to stay above 200 in Double-A in 2014, but it did not show a precipitous drop even as he progressed to Triple-A and eventually the Majors. His strikeout percentage ranged between about 22 percent and about 28 percent, at its highest, in the Minors, so the 30 percent mark in his first year in the bigs shouldn't be a surprise.
Not only that, but Bryant's BABIP -- an area seemingly ripe for regression, as mentioned earlier -- has always been high. He might experience bouts of bad luck that will lead to short slumps, but as long as he keeps his swing in the zone at or near the rate that he did in 2015, don't expect to see any sort of prolonged offensive struggle.
On the whole, 2016 should be a reasonably successful season for Bryant. That success might not translate directly into an upward trajectory in the numbers that we like and a downward trajectory in the ones that we don't, but for now it's safe to say that what warning signs exist can mostly be discounted. That's good news for the young slugger, and for his fans.
More MLB stories from Sports on Earth
Campaign slogans for every MLB team
MLB's most likely turnaround teams
A problem with preseason predictions