Tristan Thompson can't score from the post, create his own shot, space the floor, consistently protect the rim or dribble without looking at his shoes. This sounds more concerning than it is, because Thompson's strengths (which we'll get into later), combined with his contextual responsibilities within Cleveland's roster, somehow qualify him to start at center for a team with championship aspirations.
A barometer of sorts, it's a fundamental fact that the Cavs are unconquerable when Thompson's flaws don't take anything off the table. If he stays in front of his man switching screens, finishes around the basket and rebounds everything in sight, this team is in good shape.
During the regular season, Cleveland went 18-2 when Thompson grabbed at least 12 boards and 10-13 when he failed to haul in at least six. This doesn't mean he's even one of the four best players on his own team, but his good play elevates them to a different level.
In Cleveland's critical Game 3 win, Thompson finished with 14 points and 13 boards. Seven of them were offensive. Here's what happened after each one: 1) a put-back dunk, 2) a layup, 3) a missed layup (by LeBron James), 4) a drawn shooting foul (Thompson made both free throws), 5) a shot-clock violation, 6) a wide-open three by Kyrie Irving that missed, and 7) a layup.
That's eight points for the Cavaliers instead of numerous opportunities where Golden State could've tossed its bloody transition spears. Thompson made five of his six attempts. All were contested. He finished strong and through contact, the gravy-train junk-bucket getter who boosts moral and inspires belief. At his best, Thompson isn't a chess piece, he's a crowbar smashing through the board.
He logged 16 offensive rebound chances (the number of times a player is within 3 1/2 feet of a potential rebound), which was two more than the entire Warriors roster combined.
When a teammate's shot goes up, Thompson embodies the moment someone cracks open a soda can that's been spiked into the ground half a dozen times. He's unpredictable chaos, a messy mercenary who splashes color into Cleveland's grey offense by prolonging its possessions and handing some of the best offensive players in the world another opportunity.
In Game 3, SportVU cameras clocked Thompson's average speed at 4.3 miles per hour, faster than anyone in the game who logged at least 10 minutes. It's almost like he out hustles his own weaknesses, while never, ever suffering an injury.
With Kevin Love sidelined by a concussion, the Cavaliers were able to start the game with James on Draymond Green and Thompson on Andrew Bogut. This not only deters Golden State from leaning on its Stephen Curry/Green pick-and-roll -- knowing Cleveland will just switch -- but it also lets Thompson be more aggressive as a help defender.
Here he is seamlessly sliding off Bogut to turn a once-promising Klay Thompson drive into a turnover.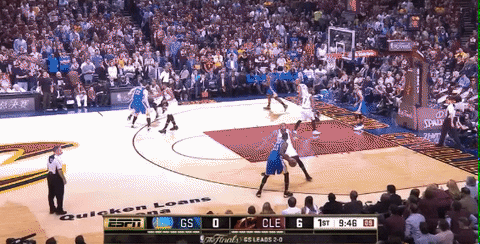 Plays like that one fuel belief that Golden State needs to start Andre Iguodala in Bogut's place for Game 4. The Warriors can run with the Death Lineup and never look back. It's hard to argue; the Warriors look incredible in this series when Green is their center.
The Cavaliers don't have a strategic response, but what they can do is sustain their energy, remain disciplined with their switches and scrap and claw for every loose ball and missed shot. When Thompson doesn't do these things, the Cavs struggle. He's partly why Golden State coach Steve Kerr doesn't want to use small lineups too frequently. Despite diminished driving and passing lanes always being a concern for James and Irving against Golden State's small lineups, Thompson -- at his best -- nullifies any disadvantage by dominating the game's grimier areas.
The Cavaliers have essentially neutralized the Warriors when Thompson is on the floor, only getting outscored by 0.5 points per 100 possessions. Including garbage time, Cleveland's defense is a stringy cobweb with Thompson on the bench. It allows a ridiculous 116.2 points per 100 possessions in these situations and only 100.3 when he plays.
Thompson had one deflection in the series' first two games. Wednesday night, he recorded a game-high five to go along with a team-high 11 contested shots. He switched onto Curry and Klay Thompson and made them really work for their looks (even those that resulted in a Warriors basket).
Thompson isn't one of the five best players in this series, and his flaws make him far less valuable in a vacuum, on a different team that can't afford to throw this skill set on the floor for 35 minutes. But right now Thompson is making all the difference, and the Cavaliers don't stand a chance if he ever takes his foot off the gas.
Earlier in these playoffs, LeBron said Thompson was Cleveland's own Dennis Rodman. Being that Rodman is in the Hall of Fame and one of the greatest rebounders who ever lived, this comparison is just a wee bit hyperbolic. But if Thompson can just replicate his Game 3 performance when this series heads back to Oracle Arena, Cleveland has a puncher's chance to pull off one of the best comebacks in NBA Finals history.
More NBA Finals stories from Sports on Earth
Cavs three-mendous as Dubs flub