Let's get this out of the way up top: I wanted Will Muschamp. Yeah, I know.
OK, rewind a bit. I grew up about 45 minutes outside of Clemson, S.C., as a diehard Tigers fan. As far sports goes -- hell, as far as anything goes -- Clemson was my first love. From about middle school on, I was one of the biggest Clemson fans you could find in a time when you really couldn't find that many. During the fall every year, my happiness during the week hinged on whether the Tigers secured a win or a loss. That feeling only intensified in fall 2008 when I was a freshman in Clemson. (Notice I didn't say at Clemson. I was in a weird deferred admission program. Long story.)
It was supposed to be the season under Tommy Bowden when everything changed. Clemson came into the season ranked in the top 10. The Tigers were finally going to get a shot at the BCS. But nothing changed. Clemson got blown out by Alabama in the first game of the season, Nick Saban's second season, but his first with the Tide that showed the juggernaut he was capable of building. Bowden was fired on Oct. 13, 2008 after a loss to Wake Forest.
With Bowden out, Clemson had a chance for a culture change. The biggest criticism I had of the Tigers during this time was that they were soft. Hit them in the mouth one time, and they'd fold. I watched it live from the Georgia Dome 34-10 loss to Alabama, and I had watched it for years before.
But Clemson was finally going to hire a tough guy. A hard-ass. Saban had not forged the cult of personality that is around him today, yet, but anyone who saw him coach at LSU or his early years at Bama could see how great he was. I wanted someone like him, that would focus on defense, be tough and hit teams in the mouth. I wanted a Saban disciple. And at the time, there was none more popular than Muschamp, head-coach-in-waiting at Texas at the time.
So I was more than a little upset when the season ended and Clemson removed the interim tag from Dabo freaking Swinney. He was a laughing stock and it was embarrassing. I mean, the dude's name is Dabo.
Dabo was the guy on Clemson's staff who fans made fun of for being a terrible coach. The dude was selling insurance only a few years before. I was fine with him as an interim, just not the man who held the keys going forward. I wanted a Football Guy, and Clemson hired the opposite. It hired a goober.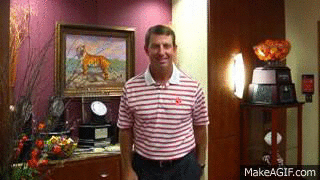 In his first few seasons, Dabo wasn't a guy who won a ton of football games. He went 4-3 as an interim, 9-5 in his second year, 6-7 in his third and 10-4 in his fourth, including a 70-33 shellacking at the hands of West Virginia in the 2012 Orange Bowl. And I wanted him fired pretty much every second of the way. Although many fans may not admit to it now, they did too.
But while so many fans lost faith, Dabo kept it. I still remember the moment it felt like he actually might be on to something with his goofy, cheerleader gibberish. After beating UGA to open the 2013 season, something Clemson fans wanted more than anything considering they lost to the Dawgs 30-0 at home when the teams last met 10 years before, Dabo gave one of the postgame sermons. A lot of Clemson fans thought it was unthinkable for the Clemson Tigers to beat a team like Georgia, but as only Dabo could say, "It's only unthinkable if you don't think it."
So here was the unthinkable: Maybe Dabo Swinney didn't con us and he actually believes the hype he spewed over his first few seasons about turning Clemson into a title contender. And although I and so many others doubted him, he did it his way. And he did it by exploiting his strengths and hiding his weaknesses.
His strength was obvious: The man can recruit with the best of them. As wide receiver coach at Clemson, he was the ace in the hole. He was the only guy who could dip down into Florida and compete with the likes of Florida, Florida State and Miami. One thing that probably got him the job was that he was the guy who signed C.J. Spiller out of Florida when no one said it could be done.
Clemson has signed progressively better and better classes under Swinney. The cupboard was bare when he was hired, but now the Tigers have more talent than most teams in America. And that's a testament to the connection Swinney was able to forge with his players.
Swinney was also able to forge that connection with fans. While there were plenty of pessimists like me, there were also plenty of Dabo loyalists, or as I call them now, smart people. Love him or hate him, there is no denying the man can cut a promo with the best of them and make fans excited about the future. And he has continued to do that as figurehead of the program.
His weakness was also obvious. The man wasn't a great coach. The X's and O's over his first few years were a disaster. He hired young guys from elsewhere on Clemson's staff to coaching positions and put a guy with no experience at OC. Hell, for his first year, Dabo kept signaling in plays because that's what he did when he was an assistant under Bowden. For a fan like me who wanted someone with a proven pedigree as a coach, this was about the last thing you wanted to see.
But Dabo eventually figured out he needed to delegate most of those coaching duties to be successful, and two hires changed the trajectory of the program forever.
The first was offensive coordinator Chad Morris in 2011. In Swinney's first few years, he tried to run a somewhat pro system. But he brought in Morris, who had only coached high school ball in Texas and one season at Tulsa before coming to Clemson. Morris blew up Clemson's scheme and implemented the tempo-spread that has dominated every team it's come in contact with for three or four years. He laid those foundations, taught Dabo and the rest of the staff the offense that has become such an identity for the team. He also convinced Deshaun Watson to sign with Clemson, the player who fits that system so perfectly.
The second hire was defensive coordinator Brent Venables in 2012. At Oklahoma, Venables coached the kind of tough-guy defenses fans wanted. In a few short seasons, he turned the D into a wrecking crew. Dabo figured out he didn't know the best ways to coach his teams, then went out and hired the guys who did.
Saban always talks about "The Process," but Dabo and Clemson's progression truly was. First he won the division, then he won the conference, then got to the national championship, then he won the national championship. Slowly but surely, Dabo put his money where his mouth is and build a winner at Clemson from almost nothing.
And he's proved so many people wrong along the way. Over the past few years of Alabama dominance, it seemed like the only way to win was the Saban way: joyless efficiency. Dabo is direct proof that that isn't true. You can be a goober and dance after games and give long-winded, heartfelt postgame speeches instead of short cliches and still win. That attitude brings me an extra level of enjoyment. There are so many moments I can look back on over Dabo's tenure that are just so filled with joy, and I just can't imagine having a coach who didn't dance his ass off after a big win.
CLEMSON NATIONAL CHAMPIONS!!! pic.twitter.com/0xHwSbqrpK

- Jahan (@H00PINATI) January 10, 2017
In a world of Sabans, Meyerses and Muschamps, Dabo was just a goofy dude without the pedigree to coach at the top level. But Dabo won, and he made college football better by doing it. If you want your team to build a winner, you don't have to hire another Saban. Now you can hire another Dabo.
It's only unthinkable if you don't think it.
* * *
Cy Brown writes about soccer and other stuff for Sports on Earth. Follow him on Twitter @cepbrown.