In September, Atlanta United, one of the two expansion teams in the MLS this year and the one that has generated a near-unprecedented level of excitement for a first-year team, will finally play its first game in its home stadium. Mercedes-Benz Stadium -- a $1.6 billion edifice that will be the home of the Atlanta Falcons, Atlanta United, the 2018 College Football Playoff championship game, the 2020 Final Four, Super Bowl LIII and, most importantly, the Alabama-Florida State Chick-fil-A Kickoff Game on Sept. 2 -- is a fascinating, state-of-the-art stadium that's most defining feature is its "pinwheel" root, with eight panels that retract to let in fresh air.
It's pretty cool, though ever since Deadspin's Drew Magary called it "Megatron's butthole," I'll never being able to get the image out of my mind.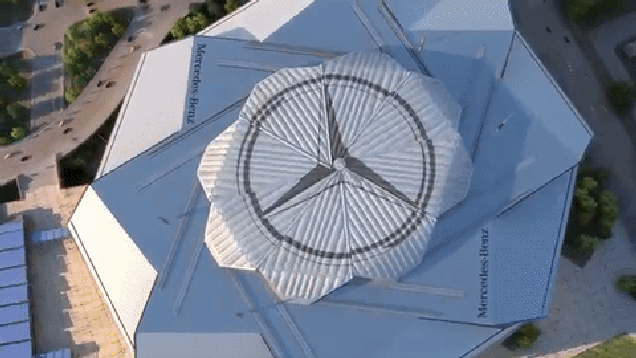 Anyway, once they figure out how to get that orifice to open and close properly, the place is going to be fantastic. The new stadium is the reason Atlanta has a soccer team in the first place, and the whole franchise is building up for its first game there at 3:30 p.m. Sunday, Sept. 10, against FC Dallas. They'll be the first team to play a home regular-season game at the new stadium -- the Falcons have a preseason game there in late August, but delays with the orifice caused Atlanta United to have three games that were supposed to be the first event at Mercedes-Benz get postponed, much to the frustration of my fellow season ticket holders -- and the game will without question be the biggest event of their first season. Atlanta United, already one of the most popular teams in the MLS, will finally have a home.
But it's difficult not to still be a little bummed about it. This will be the end of Atlanta United's time playing at Bobby Dodd Stadium, home of the Georgia Tech Yellow Jackets football team, and that means the end of one of the more unique, deeply enjoyable sports atmospheres I've seen in a long time.
Last Saturday, I watched Miguel Almiron, a 23-year-old Paraguayan midfielder signed by Atlanta United to a "young designated player" contract, score three goals in a 4-1 win over the Houston Dynamo. These were fantastic goals. These made me jump up and down like a buffoon.
I saw a 16-year-old Andrew Carleton -- he was born two months after the Patriots drafted Tom Brady -- who was born and raised near Powder Springs, Georgia, make his Atlanta United debut, in front of nearly 45,000 people screaming and chanting his name.
I saw those same 45,000 people wait out a lightning delay by standing outside the gates of the oldest college football stadium in the FBS and sing songs together, wave flags together and get gloriously drenched together.
I saw commiseration, and community, and unification. I saw everything that sports is supposed to bring out in its fans.
It's always strange when a professional team plays home games somewhere it doesn't ordinarily, whether it's because of construction delays or unforeseen weather issues. Remember that season the Bears played at Memorial Stadium in Champaign because they were putting the spaceship on top of Soldier Field? (The Vikings did the same thing for a couple years in Minnesota.) Those ended up being odd, awkward, uncomfortable blips; the civic institutions that are our sports teams are not supposed to feel like traveling road shows just passing through. And there may be no greater awkwardness than what the Raiders are trying to pull off in Oakland, playing multiple seasons at a stadium they can't wait to leave while their fancy digs in Las Vegas are being constructed. It's odd to show up for something that's so explicitly eager to leave.
But what has happened at Bobby Dodd, with Atlanta United, has been something amazing. It has taken the natural, fervid excitement that the city of Atlanta has for its brand new soccer team -- Atlanta United has instantly shot to the top of the MLS attendance charts -- and it has funneled it through something old and beloved and grizzled. Bobby Dodd is located smack in the middle of Atlanta -- a place where it's impossible to imagine a university getting any sort of football stadium built today -- amidst a major university and a residential community. It has a gorgeous view of the Atlanta skyline, old-school college football sightlines everywhere, and the intimacy of a place built before anyone considered the possibility of a "dome."
Game day! Atlanta x Houston - MLS! (@ Bobby Dodd Stadium - @gtathletics for @HoustonDynamo) https://t.co/8ibMUphU3M pic.twitter.com/x5NBfsybnx

- Gustavo Tomazeli (@gustavotomazeli) May 20, 2017
Putting Atlanta United here until Mercedes-Benz is ready has taken the overwhelming enthusiasm for this new team and transported it to the building that's precisely the right shape and size for it. If it were in a traditional MLS stadium, which is usually smaller, it'd be so impossible to get tickets that it would almost feel like a luxury item. If Mercedes-Benz had been ready, putting the team there would almost suffocate the enthusiasm; as much as Atlanta United officials insist the new place will be "ideal" for soccer, it's still a big dome, and a big dome built for an NFL team no less. It would be nice, sure. But it wouldn't be this.
But this mix of team and building has led to some of the most exciting moments of the MLS season, and a fan base -- along with supporters groups, who have set up makeshift tailgate areas by the Varsity restaurant across the street -- that's just spilling out every side with exuberance. To see a night game, after a cooling-off rain storm, with the most exciting team in MLS, in front of a fan base losing its minds, in a classic college football stadium in the middle of a burgeoning downtown metropolis … it's a sports experience that's so rare that of course it can't last.
It's going to be just fine when Atlanta United heads to Mercedes-Benz Stadium. But it will not be this.
There are five games left at Bobby Dodd Stadium for Atlanta United.
Sunday, May 28, 5 p.m. vs. NYCFC
Saturday, June 17, 7 p.m. vs. Columbus Crew
Saturday, June 24, 7 p.m. vs. Colorado Rapids
Tuesday, July 4, 7 p.m. vs. San Jose Earthquakes
Saturday, July 29, 5 p.m. vs. Orlando City
Come August, Georgia Tech needs its football stadium back. So that's it. You have five more opportunities to see something that you'll never see again. Atlanta United will head to their $1.6 billion stadium; Bobby Dodd Stadium will go back to hosting mediocre Yellow Jackets football. This is one of the best sporting experiences you can see in person, particularly in Atlanta, where if you want to get to SunTrust Park, you better start driving right now (and don't expect to have any place to park when you get there). It's even cheaper than your average Braves game. Five games left, and then it's gone forever. I cannot possibly recommend it enough.
* * *
Subscribe to Will's weekly newsletter and email him at leitch@sportsonearth.com